Caja Secreta  / Greece
Flamenco group   
Guitar, dance,vocals, flute, doublebass, percussion
The nuevo flamenco sound of the secret box (caja secreta), closely linked with dance and song, have travelled quite a long way. The originality and the special characteristics of Caja Secreta have established them as one of the most important flamenco groups in Greece.
In November 2012 they make their artistic debut releasing their first album "Primero" consisting wholly of original compositions.They regularly appear in festivals, theaters and music halls in Greece (Athens Music Hall, Melina Merkuri theatre, Thessaloniki Music Hall, ERT, Photography Museum, Palace theatre, State Orchestra of Thessaloniki Festival, etc). They have also been selected after an ERT contest, as one of the "favorite" groups of the period 2016-7.Their performances duly satisfy even the most demanding audiences and carry them through a mystagogic journey to flamenco. The secret box waits for you to open it.
Thomas Natsis guitar-composition
Niovi Benou dance
Melina Atreidou vocals
Lydia Kokoria flute
Pavlos Spyropoulos doublebass
George Xanthopoulos percussion
---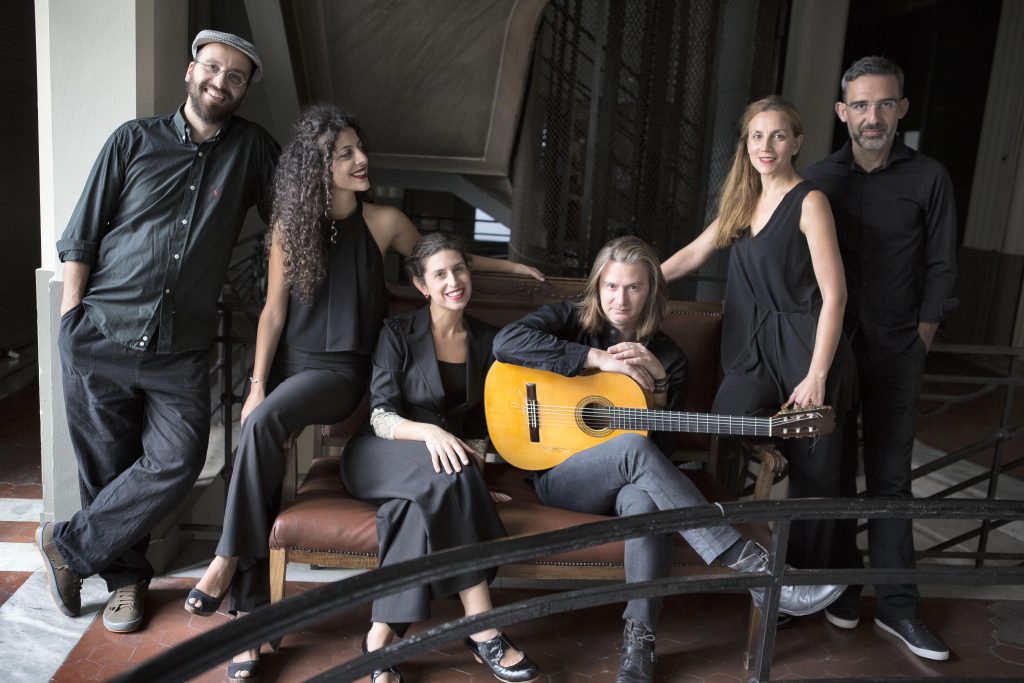 Οι Caja Secreta με την πρωτοτυπία και την ιδιαιτερότητά τους  στη σύνθεση, στο χορό και στο τραγούδι έχουν αναγνωριστεί ως ένας από τους  κυριότερους εκπροσώπους του Nuevo Flamenco στην Ελλάδα.
Έχουν εμφανιστεί στο Μέγαρο Μουσικής Αθηνών, Μέγαρο Μουσικής Θεσσαλονίκης, Ραδιομέγαρο ΕΡΤ, σε πλήθος Φεστιβάλ και Θέατρα σε όλη την Ελλάδα, έχουν συνεργαστεί με το Υπουργείο Πολιτισμού, ενώ για την περίοδο 2016-2017 έχουν διακριθεί, ως ένα από τα "αγαπημένα" μουσικά σχήματα  της ΕΡΤ.
Παράλληλα έχουν κυκλοφορήσει 2 δισκογραφικές δουλειές το Primero (2012) και το Partir (2018 – βασίζεται σε πρωτότυπες μελοποιήσεις ποιημάτων του F.G.Lorca και της Gertrudis Gomez de Avellaneda -) με αφιερώματα στην τηλεόραση και το ραδιόφωνο.
Οι εμφανίσεις τους έρχονται να ικανοποιήσουν και τους πιο απαιτητικούς ακροατές σε ένα μυσταγωγικό ταξίδι στον κόσμο του Flamenco. Το "μυστικό κουτί"(Caja Secreta) σας περιμένει να το ανοίξετε.
Caja Secreta
Θωμάς Νάτσης , κιθάρα- σύνθεση
Νιόβη Μπένου , χορός
Μελίνα Ατρείδου , τραγούδι
Λυδία Κοκόρια , φλάουτο
Παύλος Σπυρόπουλος , κοντραμπάσο
Γιώργος Ξανθόπουλος , κρουστά